An Insider's Look at La Fiesta
Friday, May 5, 2023 | 6:30 PM
With La Fiesta less than 17 days away, we are excited to share a look behind the scenes with our HA Network members.
In addition to honoring the people & partners who are building a more inclusive and equitable society in the Upstate, La Fiesta is a passionate celebration of Hispanic cultures. Event sponsorships, tables and ticket sales are selling fast, but we still have space available. Please note that space is limited, and La Fiesta consistently sells out – so act now if you want to join our celebration!
7 local Hispanic artists have been partnered with 9 aspiring art students to collaborate in a one-of-a-kind art exhibition. This exhibit will demonstrate the power of art as a vehicle for transformation & inspiration, pairing dreams with direction and shaping our collective future to be representative of a vibrant Hispanic heritage.
31 local businesses & organizations have demonstrated their commitment to our vision of a shared future of inclusion by sponsoring this year's event. We are tremendously grateful for their support!
360+ anticipated guests attending La Fiesta 2023. From our inception, the Hispanic Alliance has championed servant leadership in our community. Our guests at La Fiesta are united in the philosophy that measurable & meaningful change starts at the ground floor.
14,000 square feet of vibrant celebration at The 405 Venue, which is nestled next to the Swamp Rabbit Trail & a short stroll from the heart of Downtown Greenville.
With catering provided by White Wine & Butter & live entertainment from the Marcel Portilla Band and the Greenville Jazz Collective, this year's event is shaping up to be a memorable experience!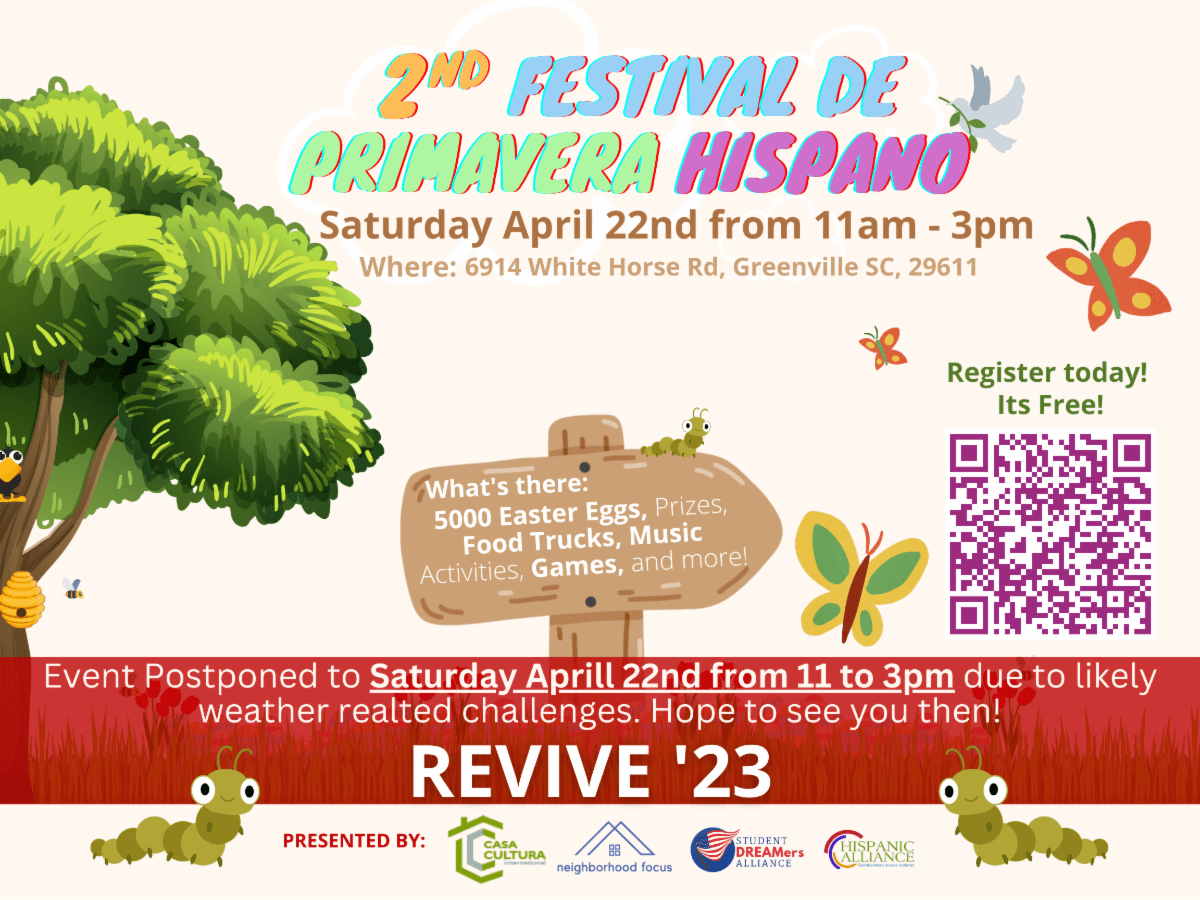 A Community Festival for You!
Join our partners at Casa Cultura & Neighborhood Focus with support from our 
Student DREAMers Alliance
 for the second annual Spring Festival! This year's event will be on Saturday, April 22 from 11 am to 3pm at 
Neighborhood Focus
 located at 6914 White Horse Rd, Greenville, SC 29611. Let's welcome Spring together by enjoying music, family games, food trucks, an Easter egg hunt and lots more!
Volunteer at the Festival
Enjoy the festival while you volunteering! We are looking for volunteers that would like to help us the day before and/or the day of the event to ensure our families have an amazing time at the event.

Infinite Possibilities: Elevating Families
Infinite Possibilities mission is to aid (rental, utility, food, clothing, hygiene, and case management) and provide services to prevent displacement of families, to provide for unsheltered families and to provide subsistence services to unsheltered families. Their goal is to provide basic necessities for work, school, and self-empowerment to help improve/sustain quality of life.
This nonprofit organization works with Title 1 schools in Greenville County including: Berea, Lakeview and Tanglewood Middle School, Carolina and Berea High School, Greenville Early College, homeless shelters and extended stay hotels.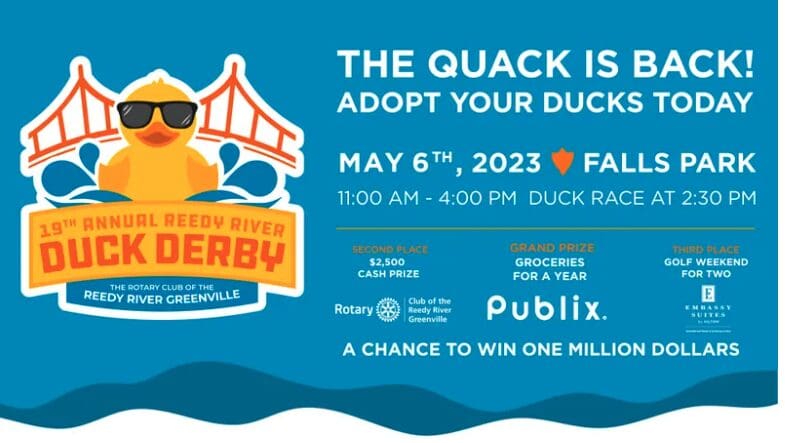 Do you have your rubber duck for the Reedy River Duck Derby? The event is back at Falls Park on May 6th from 11am-4pm. Join the festival, hat contest, food, games and much more and see 14,000 rubber ducks float around the Reedy River. This event is in need of volunteers to ensure everyone has the best time!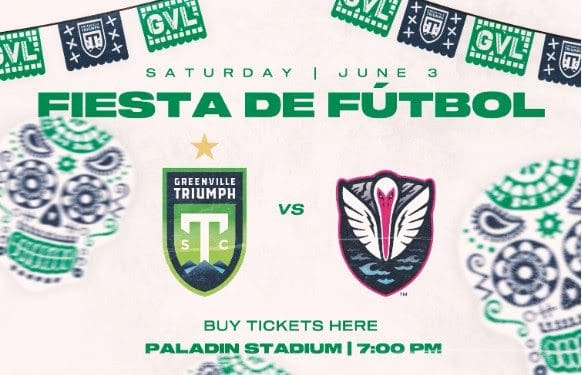 Start the Summer with Greenville Triumph
Mark your calendars for FIESTA DE FUTBOL with Greenville Triumph on June 3rd! Start the summer by supporting our soccer club while celebrating our culture at the Paladin Stadium. Tickets are already available and you can use code ALLIANCE to get a discount.
Once on the website, enter code ALLIANCE and click "submit"
You will see all upcoming games. Scroll down to find the game on June 3rd.
You can buy tickets for $21 and hangout at the Hispanic Alliance Sideline area or purchase tickets for $14 for best available.
Don't forget you can also walk into the store (22 S. Main St, Greenville, SC 29601) to purchase your tickets!
April Network Meeting Recap
If you weren't able to join us last week at our Network meeting, don't worry! You can find below the meeting minutes and in-detailed information on upcoming events and resources.
Become a spotlight presenter for an upcoming Network meeting! These spots are available to nonprofit organizations and programs that have resources to our Greenville County neighbors and surrounding. We have a few spots left for Q3 and Q4. Please email Debbra Alvarado for more information.
Greenville County Schools Strategic Education Plan
Every five years, Greenville County Schools pursues a comprehensive revision of its Strategic Education Plan. The purpose of the strategic planning process is to ensure GCS meets the diverse needs of our students and helps them grow in both knowledge and skills. Parents, students, staff and the community are encouraged to attend the community input meetings.
The following meetings will begin at 5:30pm and end at 7pm.
April 11 – Blue Ridge High School 
April 12 – Eastside High School 
April 18 – Southside High School 
April 19 – Fountain Inn High School
April 20 – Berea High School
Spanish interpretation service will be available at each in-person community input meeting. If you need a different accommodation, please email amayoung@greenville.k12.sc.us. 
A virtual community input meeting will be conducted by Zoom on April 18 at 11:30am.
Financial Stability & Business
Doing Business in the USA: Important things to know and key legal matters to consider
The South Carolina Small Business Development Centers and Burr & Forman LLP law firm is leading "Doing Business in the USA: Important things to know and key legal matters to consider". This event will focus on the legal essentials needed to start a business in the United States and the appropriate strategies to identify and protect any business assets during the process. The presentation will be made in English and in Spanish. The event is on Wednesday, April 26th from 10am-11:30am at 104 South Main Street, Suite 700, Greenville SC 29601-4805.
Greater Good Greenville is hosting a couple of events that can be of your interest:
Know Your Rights as a Tenant | April 19th | 6pm-7:30pm| JudHub. Learn about your rights and how you can protect them! Join us for this session with Holly Webster with SC Legal Services to get information and ask questions. 
Eviction Policy Reform in South Carolina | May 3d | 6pm-7:30pm | JudHub. Our state's policies that relate to eviction – from the mere $40 it costs a landlord to file an eviction to the fact that almost no tenants have legal representation during eviction proceedings – are part of the story of why we've lost Black families in our urban areas. Michelle Mapp, attorney and Equal Justice Works fellow with the ACLU, will give us insights into SC eviction policies and paths for action and reform. Dinner will be served.
High Schoolers in the Youth Commission
Opportunity for high schoolers to get more involved in their community: The Youth Commission of City of Greenville is recruiting high schoolers to ensure you have a voice in decision making and communication between the city's adults and its youth.
Palmetto Luna Arts is updating their South Carolina Latinx Artist Directory
This is a tool designed to connect all SC Latinx artist with upcoming opportunities, arts programming, grants information, community projects and networking opportunities. The directory will be available online for agencies, organizations, businesses and members of the community at large to find Latinx artists for their projects, events and artistic endeavors. It will also serve for Latinx artist to collaborate and network.
Salsa is Sunset is around the corner!
Salsa at Sunset is a three-part summer series taking place on June 16th, July 28th, and August 25th, 2023, celebrating the vibrant Latin music and dance culture in downtown Greenville. The event will showcase a live Latin band each night and offer dancing on the corner of South Main Street and East Broad Street in the new Camperdown Plaza at the AC Marriott Hotel. This community-building and family-friendly event is free and open to the public. upstate International is seeking your help to keep bringing the rich Latin culture to the heart of Greenville once more. Sponsorship packages begin at only $250, giving you the opportunity to showcase your support to the Hispanic community in South Carolina. With over 3,500 people dancing with us last year, we expect nothing less this year!